RATES PER SESSION
Intake & Assessment, 1st appt: $160.00
Individual Session: $150.00/session hour
If you are covering the cost of your own counseling, you may want to talk with me about pre-paying for a package of weekly or bi-weekly sessions at a discounted rate. This can help you manage the cost, and also allows you to plan how many sessions you want.
---
---
INSURANCE
Sacred Healing Place/Lisha Song is currently "In-Network" with Premera Blue Cross only. I do accept Regence, Federal Blue Cross/Shield, Franciscan, or Providence Health plans. Your insurance card must have the Premera Blue Cross logo on the front as shown below. Please call your insurance provider to confirm your plan's mental health benefits/coverage. If you have secondary insurance coverage, please note that I only directly bill the Primary insurance, not the secondary, but can provide an invoice for you to submit to the secondary insurance.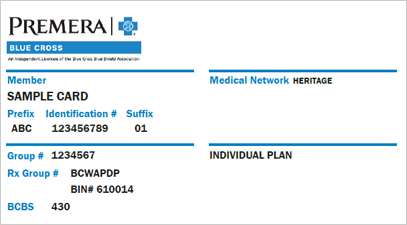 Many insurance plans offer out-of-network benefits with a higher co-pay and deductible. Please contact your insurance company to find out if they will cover the costs of counseling.
---